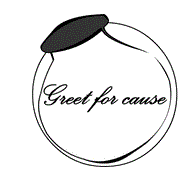 Introduction
​
"Greet for Cause Foundation" registered under The Societies Registration Act XXI of 1860 "KAR 056", NTN/FTN no.7931175-6. It was born out of a small thought to create ways to help the really needy communities using "Feed, Educate, Improve and Rehabilitate strategy".
​
Feed:
Currently the cause is actively for in Tharparkar District of Sindh. During phase one with the help of Allah, Friends and Family have managed to distribute high fiber diet to 26 most needy families.
​
Educate:
Improve the quality of education using conventional and modern methods.

Improve:
Now these families will improve their livelihood by the amount of money they have saved.

Rehabilitate:
After the improvement in the livelihood Greet for Cause will provide seed for the setup of small home base industry for their rehabilitation.
​
​
Slogan
​
Our slogan "Bringing the Light of Hope" is self-explanatory, and encompasses the previous efforts and the ongoing efforts to give the ultra-poor communities a chance at life and its beautiful side.
​
Vision
​
Mobilization of local community by developing a sustainable model that encompasses their cultural values towards a healthy lifestyle, and ensures revenue generation through skills development.