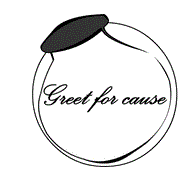 THE STORY
​
Greet for Cause Foundation, was initiated in 2014, as a single persons' effort to reach out to far flung and remote location of Thar Desert and its extremely poor communities. All at an unfortunate time of hundreds of deaths, due to malnutrition of adults, and new born babies.

A hobby of professional photography, turned into publishing 'seasonal greeting cards' for corporate contacts. Thereby, using the money generated, into funding this humanitarian cause. Giving birth to the concept of "selling greeting cards, for a humanitarian cause"; later shortened to "Greet for Cause".

As the initial survey of remote rural communities (and urban slums) was conducted, the results came with sad numbers. It was decided by a group of friends coming from diverse organizations (with national and international higher management backgrounds), to join together and enlist other personal donor contacts for this cause of welfare and charity.
An intensive Food Program and a Clean Water Program was initiated, to replenish the identified families. These families were encouraged to 'focus on earning', rather than worrying about shortage of food, and extreme malnutrition that their children were going thru.

Health camps were conducted under General Health Program with the help of sincere teams of doctors from various private and public hospitals. Medicines were provided for free, through pharma companies' CSR programs.
At the same time, another important Women Empowerment and Health Program was initiated to empower the women, by training and development in vocational skills of knitting and sewing.
2 years forward, as the number of families increased under this pilot program, and donations were limited, we decided to formally register our efforts of 'bringing light of hope', to poor communities. Registering as "Greet for Cause Foundation" in October of 2016.
Today, hundreds of others have asked us to start the same program in other far flung villages in Sindh alone. Therefore, today we have decided to come forward with a request to you, to join us in our cause. And to help us, help them all over Pakistan, by all means possible.
​
Hygiene and living conditions were exceptionally improved and sustained. And the families were asked to start sending their children into a temporarily set-up "kaccha" primary school, under the shade of tree branches. Now there are 2 "pakka" schools in Thar desert under our INITIATE Schooling Program.